Windows 8 might suck balls but this is fucking awesome. I wonder what Ballmer will suggest to fuck it up….
Long overdue. Works too, me likey!
Handwrite enables you to search by just writing letters with your finger most anywhere on your device's screen—there's no keyboard that covers half of the screen and no need for hunt-and-peck typing.
It's just bizarre to think these were cutting edge when we played them.
How many do you recognise?
This is why I love open source. Vuvuzela's bugging the shit out of you while you're trying to watch the match on your comp? Start VLC with this command line, or stick it in a batch file:
vlc –audio-filter=param_eq –param-eq-f1=233 –param-eq-f2=466 –param-eq-f3=932 –param-eq-gain1=-20 –param-eq-gain2=-20 –param-eq-gain3=-20 –param-eq-lowf=100 –param-eq-lowgain=15 –param-eq-q1=10 –param-eq-q2=10 –param-eq-q3=10
Or in Mplayer:
mplayer -af an=1:0.5:0.5, sinesuppress=233:0.01, sinesuppress=466:0.01, sinesuppress=932:0.01, sinesuppress=1864:0.01, sinesuppress=232:0.01, sinesuppress=465:0.01, sinesuppress=931:0.01, sinesuppress=1863:0.01, sinesuppress=234:0.01, sinesuppress=467:0.01, sinesuppress=933:0.01, sinesuppress=1865:0.01
Via Ghacks.
Could spell trouble for OpenDNS. I'm jealous of their netblocks.
Google Public DNS is a free, global Domain Name System (DNS) resolution service, that you can use as an alternative to your current DNS provider.

To try it out:

Configure your network settings to use the IP addresses 8.8.8.8 and 8.8.4.4 as your DNS servers or
Read our configuration instructions.

If you decide to try Google Public DNS, your client programs will perform all DNS lookups using Google Public DNS.
When renewing my Revenue On-Line Service digital certificate, I was presented with the following:
In order to renew your ROS digital certificate, ROS requires that you run third-party software provided by the Legion of the Bouncy Castle. The Legion of the Bouncy Castle is a well-respected supplier of security software that is approved by the Office of the Revenue Commissioners for use with ROS.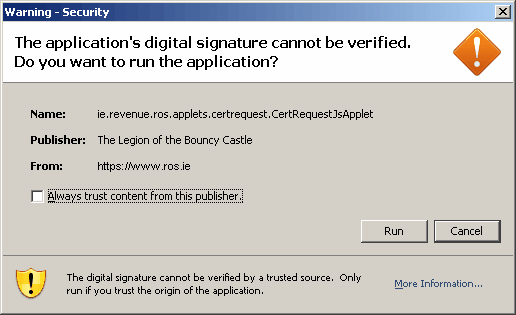 I'm sure the Legion produces wonderful software, and I applaud the Revenue for using open source software for security, but you'd think they'd be able to afford a developer to hack the source and change the bloody issuer to something a teeny bit less dodgy-looking…
While I won't assign it the "reinvention of the web" tag others are giving it quite yet, Opera Unite is something new in a space where we really don't see truly fresh things very often. In a nutshell, it's a mashup of "traditional" web services, peer-to-peer, and your browser; in more detail, it's locally hosted file sharing and communications, with the following services out of the box:
Media Sharing / Player
File Sharing
Web Server
Photo Sharing
Messaging ("Fridge")
Chat ("Lounge")
Yes, we can install all those services on our own computers – many of us have done for years – but the social aspect makes them all much more accessible. It's a bit clunky now, but in time – particularly if they hook up with Facebook Connect or similar – you'll be able to find people and help people find you, and take complete control of your services.
I like this. I won't use it right now because I couldn't possibly move away from the browser I've created out of Firefox, but  when it comes out of beta I could well switch over. I like control over my data, and Unite gives it to me.
Go on then, what gems have you that I haven't heard of yet? Here's my lot, with the ones disabled until I need them in italics.
Adblock Plus – Should be obvious. I disable in on sites I support. And so should you, on Foot.ie!
Add Bookmark Here 2 – Bookmark directly into a folder.
Download Statusbar – Downloads in the statusbar rather than Downloads Window, for easy access.
DownThemAll! – For downloading sets of files.
FireFTP – In-browser FTP client.
FireShot – For taking screenshots.
IE Tab – Load tabs in Internet Explorer, or send links to IE. Useless Irish banks.
Iterasi – For archiving web pages.
Menu Editor – New to my collection, what it says on the tin.
Microsoft .NET Framework Assistant 1.0 – Can't uninstall it. Typical MS.
Mouse Gestures Redox – As on the tin.
Nightly Tester Tools – I use this fella to load deprecated Add-ons. Must check I still need it!
Paste and Go 2 – Adds "Paste and Go" to the context menu of the Address and Search boxes.
Property Bee – Monitor properties on Daft.ie.
Tab Mix Plus – Tweak the hell out of your tabs.
Uppity – Lets you pop up a folder in the website tree.
Web Developer – For, like, web development dude.
Xmarks – Bookmarks synchroniser.
[This has been in my drafts since January 9, only noticed it now. It does have a motion sensor and landscape mode btw.]
The wife'll kill me, I want one of these and I only have my Treo Pro a couple months.
It seems to settle a major deficiency in the Treo Pro, namely Windows Mobile. It's not a bad mobile OS per se, but the hardware is a tad underpowered for it, and it has niggles that can't be addressed because of it's closed nature. That said, I don't know if the Pre's webOS will be open either, but hopefully Palm will have generated Clue from their Windows adventure. And drop it forevermore…
One other apparent deficiency would appear to be a motion sensor and/or landscape mode. You'd think that if it had it, the presenter in these PC Pro videos – well worth watching by the way – would have demoed it; although it has to be said that despite best effort, he's no Steve Jobs and might have been better off deferring to someone with more charisma.
(Via Slashdot.)