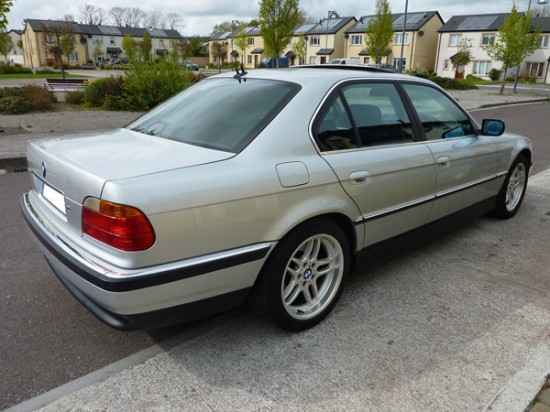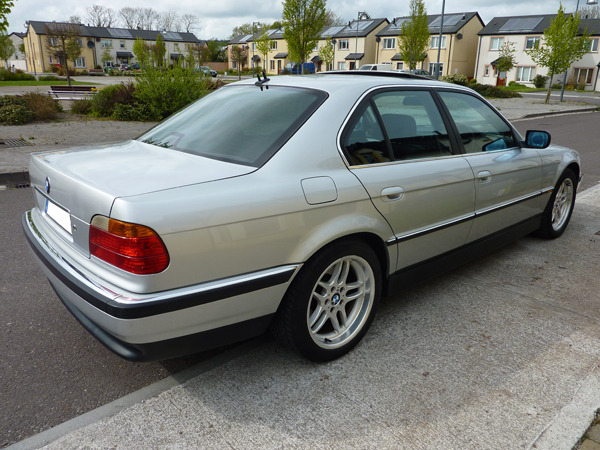 This is James, my minded '00 740i. I bought it in great nick 18 months ago and since then I've fixed the minor body and interior issues it came with myself with OEM parts, had it serviced twice with trusted indies, and I've had some mechanicals done by Cork BMW specialists Ardfallen Motorcare: alternator (used), intake breather (new OEM), and aircon valves/pump (new OEM). The ABS pre-charge pump (used) was also replaced by one of the indies.
The suspension was given a good going over by my mechanic when I bought it, and I haven't had any problems since. The engine is running beautifully. The M-Parallel alloys are genuine BMW and the tyres have at least half their wear left. The original standard alloys will come with the car, but I'm happy to keep the M-Paras back if you'd like to reduce the price by a few hundred quid.
It comes with all the features you'd expect from a car that originally cost in the region of €100k: electric windows, mirrors, seats and tilt/slide sunroof, cruise control on the multi-function steering wheel, 6 CD changer, on-board computer, auto-dimming rear-view mirror, auto-wipe with rain-sensor, soft-close boot. Other nice touches are footwell lights, puddle lights in the door bottoms, and natty door handle lights.
Service history is as follows. The last two indies are my guys.
0 (10/00) Murphy & Gunn BMW – Pre-Delivery
13473 (01/08/01) M&G BMW – Oil
26556 (05/04/02) M&G – Inpection I, Microfilter
38290 (12/11/02) M&G – Oil
52675 (14/08/04) M&G – Inspection II
60978 (30/11/05) M&G – Oil
68134 (03/11/06) M&G – Pre-Purchase Service, Wishbone
76570 (27/04/07) M&G – Inspection I, Microfilter
94117 Gerald Perry Motors – Oil
107888 Cork Engine Centre – Oil
115000 (09/11/10) O'Learys Garage Ballincollig – Oil
121745 (09/08/11) East Cork Motors – Spark Plugs, ABS Pre-Charge Pump
122348 (02/09/11) Ardfallen Motorcare – Intake Breather Valve
124631 (29/02/12) Ardfallen Motorcare – Aircon Valves/Pump
I'll provide copies of all maintenance and parts invoices I have to go with the service book.  It comes with two fully-functional keys, and NCT to October this year. The current mileage is 125735m. I'm happy to provide the reg if you'd like to do a MotorCheck report, just ask and I'll PM it to you.
There are very few faults with the car. It has a /very/ small dent on the passenger-side rear wing, barely noticeable, and the leather in the front seats isn't perfect, it's just very good for a 12 year old car; ditto the headlining. On the maintenance front, it'll need a service in about 6000 miles, and I think a transmission flush wouldn't go astray in the next 15-30k, to keep changes nice and fluid. It's a simply job on about the level of a regular oil change, and documented in the Bentley manual; budget around €250 if you're doing it yourself, €350-400 with an indie.
I'm open to /reasonable/ offers; I won't respond to lowballs. It's a joy to drive, I'll miss it terribly but it's time for me to try something new. You can email me if you'd like to ask any questions, or you can use Adverts.ie if you'd prefer.