I can see myself watching this daily for a week, looking for more and more of Cork's oddities.
https://www.youtube.com/watch?v=KRgYuK4epfM
What I love most about perspectives like this is the inside of city blocks, the cramped mess of buildings that they end up, but usually with little cubbies of light and even greenery. Speaking of which, I had absolutely no idea there was that much green behind Shandon. None. Really must pop in there some day, I've put it off for years.
Well done that man. I'd love to know what quad he has, the handling and video are, again, superb. The comments say it's DJI Phantom, but given the flight time and distance, I'm skeptical. Whatever it is, it puts the cheap Chinese heap I bought to try to shame. :)
This came off my first car, a Mini I bought before I had any mechanical skills whatsoever, probably 15-20 years ago. I know it's mine because the grille was a separate purchase, and I picked the colour myself from something completely unrelated to Minis. A friend of a friend sprayed it, badly, and then it languished in my parent's garage for far too long, stripped. I eventually sold to my neighbour for a fraction of what it cost me. He probably made a tidy sum on it. :)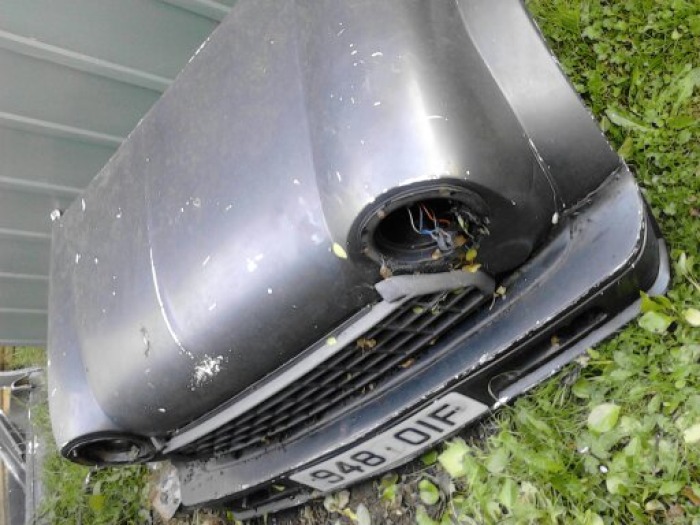 The vid is kinda boring, tbh. Just look at the first shot, in the garage. It's just gorgeous.
I was disappointed not to be able to post anything interesting from CES – anything, anything at all – but at least Detroit isn't disappointing on the metal front. Best so far is this brilliant concept from Kia, of all brands. 2l turbo driving the rear wheels. Gorgeous.
http://www.youtube.com/watch?feature=player_embedded&v=mgC92v3Mwtw
I'd love to know were the red and blue flashing lights towards the end of the video a police escort, or Jay getting a tug for driving with no plates… or car…. :)