The word you're looking for, is "awesome".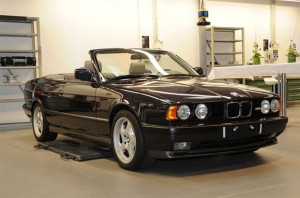 Autoblog: back in the late '80s BMW built a convertible E34 M5 and they've kept it under lock and key for the past 20 years until showing it to a select group of journalists during a 25 years of M5 celebration. Based of the E34 chassis, the convertible version featured lengthened doors and was actually all set to go into production.

But then, just one week before its introduction at Geneva (they'd booked space for the car and everything), BMW pulled the plug and canceled the M5 convertible, fearing demand for non-M5 convertibles would cut into the highly profitable 3 Series convertible sales.